NAPSW REGIONS AND LIAISONS
NAPSW is divided into ten regions, with each region and state represented by an NAPSW member. Your regional liaison and/or state representative can be a great resource to learn more about NAPSW and its available resources for networking and information sharing. Below the map of the NAPSW regions is a list of each regional liaison and state representative. To find your representative, locate your region on the map below and click on the link below the map for your corresponding region. Not every region has an assigned representative and NAPSW members who have interest in fulfilling that role should contact the NAPSW Vice President. Click here to learn more about what serving as a regional liaison or state representative entails.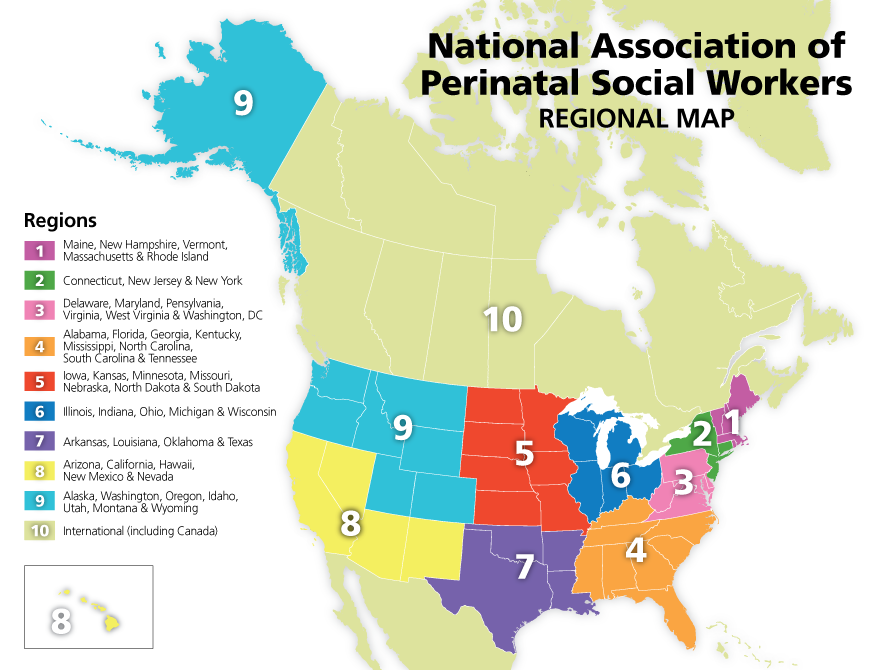 Directory of Regional Liaisons and State Representatives
Region I Region II Region III Region IV Region V Region VI Region VII Region VIII Region IX Region X

Regions and states listing open spots need representatives.
---
Region I — NH, VT, ME, MA, RI
Liaison:
Andie Insoft
State Representatives:
New Hampshire
OPEN
Vermont
OPEN
Maine
OPEN
Massachusetts
Fredda Zuckerman
Rhode Island
OPEN
---
Region II — CT, NJ, NY
Liaison:
Amy Windels
Morgan Stanley Children's Hospital/New York Presbyterian
State Representatives:
Connecticut
OPEN
New Jersey
OPEN
New York
Irene Sprung
Morgan Stanley Children's Hospital/New York Presbyterian
---
Region III — DC, MD, PA, VA, WVA, DE
Liaison:
Judith McCoyd
Rutgers University Department of Social Work
State Representatives:
District of Columbia
OPEN
Maryland
Ali Tiedke
Howard County General Hospital
Pennsylvania
Heather Ousley The Children's Hospital of Philadelphia
Delaware
OPEN
Virginia
OPEN
West Virginia
OPEN
---
Region IV — AL, FL, GA, KY, MS, NC, SC, TN
Liaison:
OPEN
State Representatives:
Alabama
Jane Allgood
Allgood Psychotherapy, LLC
Florida
Michelle Paisley
John Hopkins All Children's Hospital
Georgia
OPEN
Kentucky
OPEN
Mississippi
OPEN
North Carolina
OPEN
South Carolina
OPEN
Tennessee
Riann Proctor
East Tennessee Children's Hospital
---
Region V — IA, MN, MO, NE, ND, SD, KS
Liaison:
OPEN
State Representatives:
Iowa
Kathleen Shey
Minnesota
Jill Palmer
Children's Hospitals and Clinics of Minnesota
Missouri
Patti Bridges
Nebraska
OPEN
North Dakota
OPEN
South Dakota
OPEN
Kansas
OPEN
---
Region VI — IL, IN, OH, MI, WI
Liaison:
Jennifer Russell
Anthem Indiana Medicaid
State Representatives:
Illinois
Erin Danahy
Indiana
Jennifer Russell
Anthem Indiana Medicaid
Ohio
OPEN
Michigan
Sarah Lossing
Michigan Medicine
Wisconsin
Sandy Dykstra
Children's Hospital of Wisconsin
---
Region VII — AR, LA, OK, TX
Liaison:
OPEN
State Representatives:
Arkansas
OPEN
Louisiana
OPEN
Oklahoma
OPEN
Texas
OPEN
---
Region VIII — AZ, CA, HI, NM, NV
Liaison:
Mary Denato
Kaiser Permanente, Roseville
State Representatives:
Arizona
Karen Kelsch
The Women's Center at Northwest, Tucson
California
Northern:
OPEN
Southern:
OPEN
Hawaii
OPEN
New Mexico
OPEN
Nevada
Daphne Fielder, MSW, LSW, LMSW
Sunrise Children's Hospital
---
Region IX — AK, CO, ID, MT, OR, UT, WA, WY
Liaison:
OPEN
State Representatives:
Alaska
OPEN
Colorado
OPEN
Idaho
OPEN
Montana
Jana Miller, MSW
Partnership Health Center
Oregon
OPEN
Utah
OPEN
Washington
OPEN
Wyoming
OPEN
---
Region X — International
Liaison:
Donna Rugamas
Fraser Health, Abbotsford Regional Hospital
Provincial Representatives:
Alberta
Beth Maudsley
Royal Alexandra Hospital, Alberta Health Services
British Columbia
Donna Rugamas
Fraser Health, Abbotsford Regional Hospital