2022 Award For Excellence Recipient, Hannah Raiden-Wright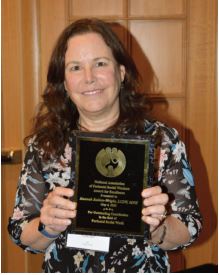 Hannah Raiden-Wright received the 2022 NAPSW Award for Excellence at the 46th annual conference held in Chicago in May. This award is presented to an active member of NAPSW to recognize excellence and/or outstanding accomplishment by a perinatal social worker.
NAPSW member Barbara Menard nominated Hannah for the award:
I am nominating Hannah because of her commitment to the field of perinatal social work. She worked at a community hospital advocating for her clients. She maintained contact with her (perinatal) colleagues in the Bay Area. Hannah has made significant contributions to NAPSW beginning with the San Francisco conference in 2011. She has served as Vice President for two terms. I think her most important work for the organization was setting up the website and all the work that she did to educate members on how to access and use the website. She was tireless in helping people log on and find other members in the membership area of the website. Despite some significant family issues, she continued to volunteer in her role as Web Chair.

Hannah, a licensed clinical social worker, lives and works in Oakland, California. She has been a member of NAPSW since 2011, serving on the board of directors from 2012 to 2016. Beginning in 2016 until 2020 she held the position of Vice President and Web Chair. Hannah has been involved in the planning of several NAPSW conferences including San Francisco in 2011. As chair of the Web Committee Hannah updated and maintained the NAPSW website; moderated the listserv; trained, assisted, and supported members on accessing and using the website in a variety of ways, including distributing announcements and online voting. Hannah continues to remain an active member of NAPSW.

Hannah graduated from the Schools of Social Welfare and Public Health, University of California, Berkeley in 1997 with a Master of Social Work, the emphasis on health care settings. The following year she obtained a Master in Public Health focused on Maternal and Child Health. Hannah began her social work career at Lucile Packard Children's Hospital working in the NICU and maternity services. She continued her work journey at Kaiser Permanente where she spent three years as a medical social worker/case manager supporting adults with complex chronic medical conditions. Hannah returned to the NICU at Children's Hospital Oakland in 2003, where she spent five years. In 2008 she began a job in the NICU at Alta Bates Summit Medical Center. In 2018, Hannah transitioned out of the hospital environment into private practice. She is currently a practicing psychotherapist at Pacific DBT Collaborative. Her practice area includes perinatal mood and anxiety disorders.

Over her career Hannah has presented on postpartum depression to the social services staff as well as oriented new nurses to social work in the NICU. She supervised MSW interns and participated in palliative care committees. In addition to this work, Hannah always made time for her family especially her husband and their two daughters, who are a source of great support to her and for her. Several colleagues as well as Hannah's daughters wrote beautiful messages of congratulations.

Hannah's daughter Michaela wrote:
Congratulations mom! I am so proud of everything you have accomplished with NAPSW and your career. Watching you put time and effort into something you have so much passion for has inspired me to be the best worker I can be. I've always been impressed with your empathy towards everyone you meet and ability to help others. You are extremely deserving of this award and I can't wait to see what else you accomplish in the future. Love you and congrats again!

Hannah's daughter Mara wrote:
Mom, I am so proud of you for everything you've worked for and achieved. You have a big heart and have always been someone I've looked up to, Congratulations!

Hannah's colleague Charese Allen wrote:
Dearest Hannah, Congratulations on receiving the NAPSW Award for Excellence!! I am beyond thrilled that the National Association of Perinatal Social Workers is honoring you for the amazing and dedicated clinician that I am privileged to call a colleague, teammate, and friend. At our first meeting, when you were looking into transitioning out of hospital social work, I remember being amazed at the strength and empathy required to be a NICU social worker. Being able to sit with people who are experiencing some of the greatest pain and fear possible is a gift and it's not a gift of the faint hearted. Even as I write these words, I feel my eyes welling with tears and yet you did this for years. When we have spoken of this part of your journey, you shared that it felt like a gift you gave them, someone who would help them sit with their pain, would help them hold it in their darkest hour. That type of kindness, empathy and strength is not common and is one of the reasons, in my opinion, that you have earned this award.
ln addition to being amazed by your heart, I was equally impressed by your courage to challenge yourself to not only learn something new, but to move away from the safe path. Most of us humans, once we are settled in a career, stay there even when we are unhappy or burned out. lt takes considerable courage to choose a different path, especially when it requires us to learn a whole new set of skills and yet that is what you have done and continue to do. I love your desire to learn and how you continually challenge yourself, by choice, to expand and solidify your clinical skills.
You have a strong set of ethics that create an internal need to provide the highest quality of care which allows you to overcome the challenges and obstacles that present themselves. This shows up in so many ways with the most important being people's response to you and their progress in therapy. ln short, I am truly honored to be able to write this letter and to be with you in spirit as you receive the recognition you truly deserve as an amazingly thoughtful, empathic, courageous social worker who has and will continue to make the world a kinder and better place. Much love and respect.

Hannah's colleague, Mina Yen-Sadoff wrote:
I had the privilege of job sharing with Hannah in the NICU at Alta Bates Summit Medical Center in Berkeley, California. Before arriving at Alta Bates, Hannah had been working in the NICU at Children's Hospital Oakland so she came to Alta Bates with a wealth of experience and knowledge. Although we hardly saw one another as we worked opposite schedules as a job share, we worked well as a team. We complimented one another. Hannah knows her resources like no other and she is such a skilled clinician. She also has the biggest heart and is the biggest advocate for the patients and families with whom she works. Hannah was unusual in that she could cover the perinatal units AND the medical surgical units. Typically, a medical surgical social worker would be fearful of setting foot on a perinatal floor and vice versa, but not Hannah. She could navigate both arenas and that made her valuable.
I enjoyed the times when the NAPSW conference rolled around each year as it gave me a chance to spend more time with Hannah. We were always roomies and it provided us the opportunity to become closer as friends and as colleagues. We talked about work and shared stories of the joys and the challenges of parenting two daughters. It pained me to have missed this year's conference, especially since I cannot personally congratulate you, Hannah, in receiving this much deserved Award of Excellence. Congratulations, my friend.

Hannah's former colleague Ruth Crowe said:
Hello to My NAPSW Friends and Congratulations to my dear friend and former colleague Hannah! Although I am not there to celebrate this important recognition with you all in person, I am very much with you in heart and spirit.
Hannah and I met in the early 1990s. We were both volunteers for the Women's Cancer Resource Center in Oakland, California, spending time with women who had cancer, providing in-home support and practical assistance. Being with women in their homes, combatting isolation and loneliness, becoming close and sometimes holding vigil with her family as the woman died, or celebrating milestones as her treatment concluded and the woman recovered.
After volunteering for about 18 months, I was asked to facilitate a support group for the volunteers and Hannah was one of those amazing volunteers. Hannah was, and is, thoughtful, compassionate, and deeply introspective about her relationships, always wanting to know more and be more fully engaged, accepting and respectful.
Our paths crossed again a decade later, in 2002, when I came to work at UCSF Benioff Children's Hospital Oakland. Hannah was working in the NICU. Hannah is a generous, patient, and skilled teacher and mentor. As I began my NICU career, I was also navigating being a new mom and returning to work after having my first baby. Hannah had already navigated that tricky transition, and was so incredibly Award of Excellence continued from page 1 continued next page 4 NAPSW FORUM Spring/Summer 2022 supportive, sharing her own experiences and validating mine.
As a NICU social worker Hannah provided exquisite care to families; she was warm, kind, compassionate and despite being torn in many directions, with many critical needs, she ALWAYS took the time to hear from families, and provide exceptional clinical care. Hannah and I were close collaborators, taking time to talk through difficult cases and strategize on how to deal with institutional resource restraints. Hannah was tenacious at diving deep, introspective and did not shy away from difficult issues. Hannah is a strong and vocal advocate for families and also an ally to the interdisciplinary NICU staff.
Hannah introduced me to NAPSW in 2004 and supported me attending my first conference in 2006. I have been in awe and grateful for all of the leadership roles she has had within this important professional organization. She has managed to juggle and balance so many aspects of her life as a Mother, Partner, Daughter, Friend, Social Worker and Dog Lover, and still give back to the profession in a beautiful and significant way.
My Dear Friend, I honor you and thank you from the bottom to the top of my heart! You have made a difference in my life, and in the life of soooo many families and colleagues. Congratulations! These letters are an amazing tribute to Hannah. Her dedication and devotion to her family, to her work and to NAPSW is outstanding. This award is the highest honor NAPSW bestows on its members. It is an important way we recognize the accomplishments of our colleagues. NAPSW congratulates Hannah on her successful career and as the recipient of this award. Congratulations, Hannah!
These letters are an amazing tribute to Hannah. Her dedication and devotion to her family, to her work and to NAPSW is outstanding. This award is the highest honor NAPSW bestows on its members. It is an important way we recognize the accomplishments of our colleagues. NAPSW congratulates Hannah on her successful career and as the recipient of this award. Congratulations, Hannah!